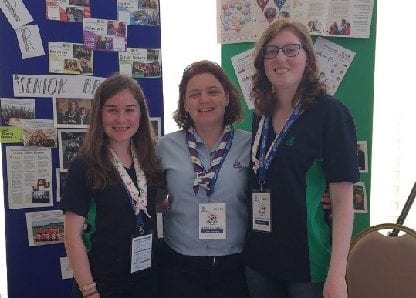 Market of Ideas, Lebanon
IGG International Commissioner Lorna Finnegan, Sleaty Guide Leader Sorcha Harkin and Aoife McDonnell, a Leader with Cuchulainn Brownies, represented IGG at the Market of Ideas conference in Lebanon in early July. The event, hosted by the Association des Guides du Liban, was an opportunity for young Leaders from member organisations of the World Association of Girl Guides and Girl Scouts to get together, share and freely discuss experiences, ideas and challenges around Girl Guiding.
Here Sorcha writes about the event:
The concept behind the conference was for our different organisations to come together and share the different ideas our organisations have, to get inspiration and to make new connections around the world. There were people attending from Lebanon, Ireland, Canada, Tunisia, Oman, Slovenia and a WAGGGS representative from Egypt. We arrived in Lebanon just before midnight on Wednesday. The first thing I noticed leaving the airport was the heat! Even Ireland's heatwave couldn't beat it! We travelled to our hotel and went straight to bed after a long day of travelling.
The next morning, we got up early to go sightseeing around the region. We met the women representing Canada and quickly made friends. We were driven up to Northern Lebanon, where we visited a cedar forest and the museum and tomb of the poet Gibran. To get there we drove up Mount Lebanon and the views were absolutely stunning!
Later that day we met up with four girls from the Guides du Liban who showed us around more of the city. We went to Byblos, one of the oldest cities in the world that has always been inhabited. When we were there we saw a fortress, went on a boat trip and had falafel for dinner. It was a great experience to see some more of the country, meet some of the Lebanese Guides and try some of the local food.
On Friday the conference started. We took part in some icebreaker games. Usually I dread these types of things because they can be a bit boring, but it was really interesting this time and a great way to immediately mix with different people. We also had some workshops surrounding the issues that each of our organisations face. It was interesting to see that most of the organisations had the same issues and we shared some solutions that have worked for different countries. It was a great opportunity to meet and get to know different people from the other organisations and discuss problems and issues that we've all faced.
On Friday evening we had the opening ceremony, which was a lovely performance of the history of Lebanon and a great official start to the conference. After the ceremony, we had a barbeque of sorts, a feast of Lebanese foods, meat, salads and mini flatbreads that I can't remember the name of but that tasted amazing!
On Saturday we started the literal Market of Ideas. We all set up our displays and projects and Leaders from around Lebanon came to see our presentations and chat with us. We displayed lots of different aspects of our organisation, but we focussed the most on Senior Branch and the Crumlin Hospital Guide Unit. We spoke to nearly 200 Leaders from different Lebanese organisations over the weekend!
On Saturday evening we all headed out to a restaurant in Beirut for an authentic Lebanese meal. There was a gorgeous view from the restaurant and the food was amazing. There was so much food, we were all stuffed by the end of the meal!
On Sunday we finished the Market of Ideas, had a roundtable discussion to end the conference and had our closing ceremony. It was bittersweet because we were all tired after the weekend, but we didn't want it to end! Unfortunately, after the closing ceremony, we had to say goodbye to our new Lebanese friends. After that, the international guests were given the opportunity to do more sightseeing. We all hopped on a bus and headed to a teleférique, aka a cable car, which took us up the side of Mount Lebanon. We then visited the Lady of Harissa statue, which provided an amazing view of the city. After that, we visited a Leaders' training camp nearby and said 'hello' to some of the people who had been at the conference, and some people we had never met before. We then headed to the Jeita grotto. Unfortunately we were not allowed to take pictures there, but the cave and its surroundings were absolutely amazing and so beautiful. After our visit to the grotto, we headed into downtown Beirut, where we visited the city's largest mosque and had a tour of the city centre, thanks to more of the local Leaders of the Guides du Liban. We had dinner and then we headed back to the hotel. At this stage we were absolutely wrecked, and had to get up in just a few short hours to fly home. So again, we said our goodbyes and went to bed.
I had an amazing experience in Lebanon at the Market of Ideas. I met so many wonderful and inspiring women, I made lots of new friends, I learned more about the way Guiding works across the world and I got to see an incredible country. It's an experience I'll never forget and something I'll carry with me forever.