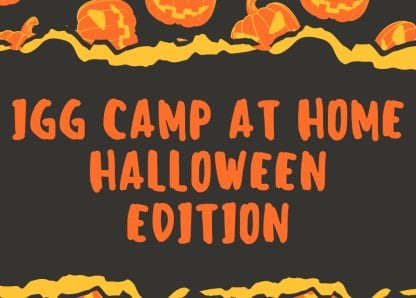 Join IGG Camp At Home this Halloween!
We hope thousands of families across Ireland will take part in our IGG Camp At Home Halloween Edition!
You can join us for our Camp At Home on Halloween night Saturday 31 October or, if you can't wait that long (!) or another date over the mid-term break suits you better, then feel free to choose another day!
The important thing is you join in the fun! With trick or treating postponed until next year, we need to come up with alternative and fun ways to celebrate Halloween at home, hence our IGG Camp At Home Halloween Edition!
Like with our previous Camps At Home, whether you sleep outdoors in a tent or set up a blanket fort under your kitchen table or pile up some cushions in your living room, is entirely up to you.
There's no need to be short of ideas for activities, crafts, recipes and games to make this an IGG Camp At Home with a spooky twist as we've compiled some really fun Halloween-themed ideas in our IGG Camp At Home Halloween Edition activity pack.
However scary you want to make the experience is up to you! Fancy heading outdoors to play Spooky Bingo or make a Magic Potion? Or you might prefer to stay inside and make bats, mummies and ghosts or play Pin The Tail On The Black Cat or, if you dare, Pin The Wart On The Witch. Or how about Musical Zombies or Halloween Bowling?
Of course you'll need to eat to keep your energy up for all the activities, so why not head into the kitchen at some point and rustle up some Strawberry or Banana Ghosts and Eerie Eyeball Cakepops, which you could wash down with some Snot Tail?
The bravest among you will, no doubt, want to hear some Scary Stories before you snuggle down into your sleeping bags .. and we've included some of those too!
Be sure to share photos on social media using the hashtag #IGGCampAtHome or send your photos and stories to communications@irishgirlguides.ie.
And don't forget to have loads of fun!