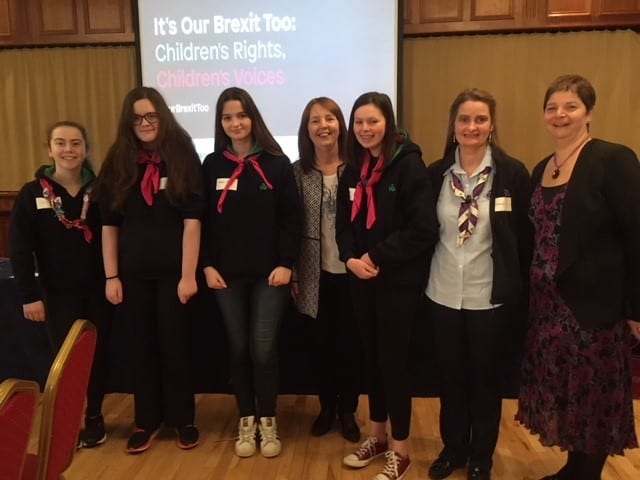 It's Our Brexit Too!
Four members of Ardagh Senior Branch, Co Longford, took part in a cross-border conference, It's Our Brexit Too, organised by the Ombudsman for Children Office (OCO) and Northern Ireland Commissioner for Children and Young People (NICCY). Here Nora-May Pearman Howard writes of their experience:
We arrived in Newry for registration at 11am on Friday 10 November. After the Brexit referendum in June of last year it became clear to NICCY and the Ombudsman for Children that not enough concern for the rights of children had been put into the decision. In June 2017 a steering committee was formed with over 20 children from the North and the Republic. This group would go on to organise the youth forum in question over a span of five months. The conference was an opportunity for children and young people to come together to discuss Brexit and how it will affect us in the future. The information we collected will be spread and hopefully acknowledged by the governments on both sides.
We started the day with tea and scones. We were then welcomed by Koulla Yiasouma, the Northern Irish Commissioner for Children and Young People and a video message from Simon Coveney, Minister for Foreign Affairs, who was unable to attend. We were presented with the key themes by members of the steering groups and then began the youth café.
People spread around 14 tables and 7 topics, identity and non-discrimination, family life, nationality and travel, child protection, non-EU children needing extra protection, health and disability, education and standard of living. Each table had at least one person running the conversation. As much as possible the conversations were led by the youths and listened to by adults. On each table was a large sheet and several markers; whenever a relevant point arose, it was written down on the sheet. Each session lasted 18 minutes before participants moved on to the next table.
After the first three sessions we broke for lunch, which lasted about 45 minutes. Following lunch we did two more rounds so everyone got to discuss five of the seven topics. When we finished the youth café we received feedback from MP Chloe Smith. Then came a panel question and answer session with several MPs from the North and Republic of Ireland. This was conducted through an app called sli.do in which people submitted their questions and others voted for the ones they were most concerned about. We finished with some closing comments from Dr. Niall Muldoon, the Ombudsman for Children.
In conclusion, I feel as if the day was very productive, the table I was running had several good conversations and good points came from them. The app sli.do was used throughout the day, through which several live polls were conducted. The information we collected from the day will prove valuable throughout the remainder of the Brexit deal-making.