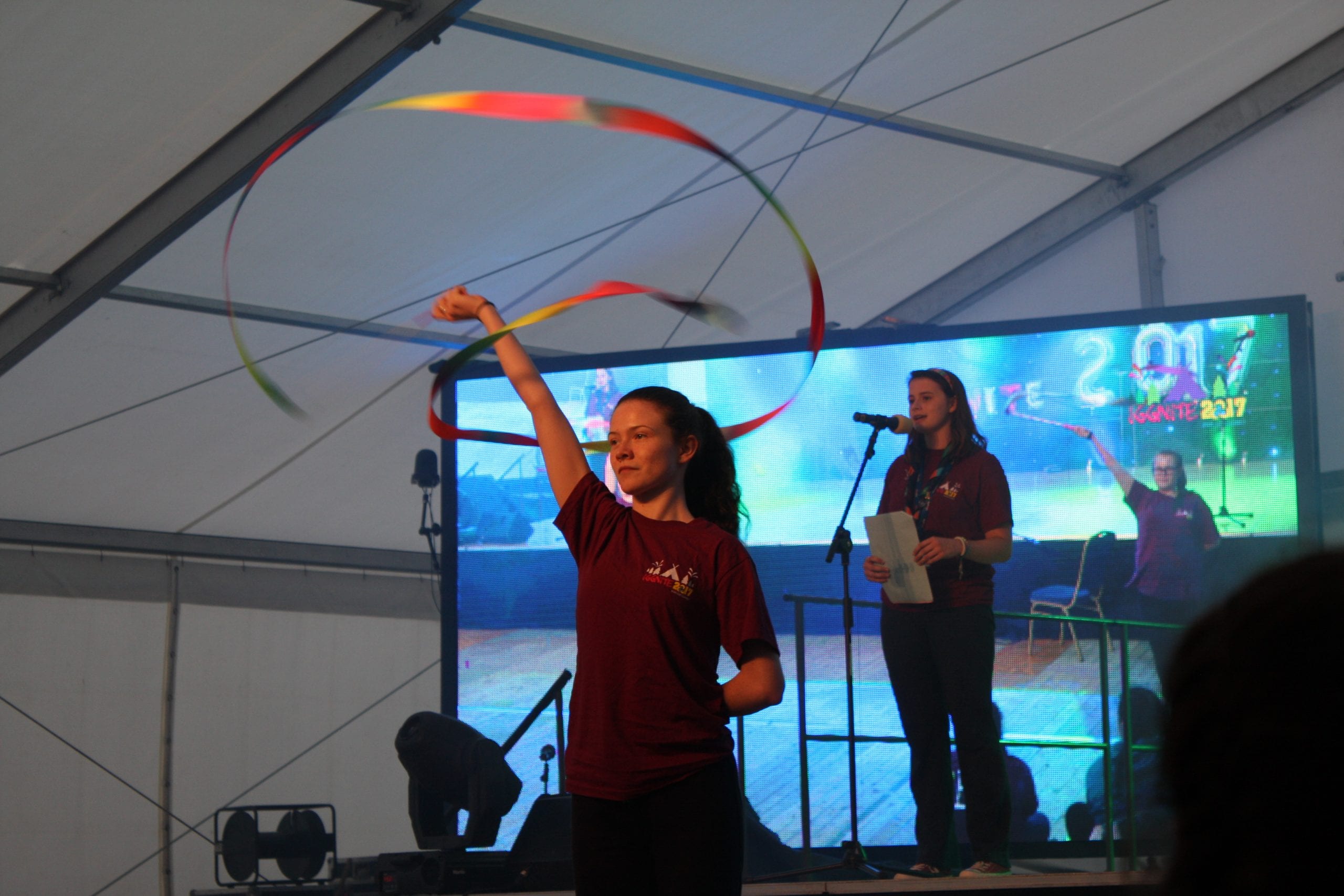 IGGNITE2017 – Day 4!
Hello there. My name is Aine Foley. I'm from Newbridge in Co. Kildare and I am a member of the cermony team at IGGNITE2017. And guess what?! Today was a ceremony day! It started off very early when two of my tent buddies got up super early to see the 8am Flag Ceremony. I woke up, dreaming of sausages, and I swear, Adrienne and her team must be mind-readers, because as I walked into the staff canteen, I was greeted with the salivating scent of sausages! We praised the kitchen staff as they cooked roughly 1000 sausages for us!
Today, we hit the mid-week mark of IGGNITE2017 – time sure does fly when your having fun. Activities were still continuing on throughout the day as we saw campers move from swimming to dance, kayaking to Free Being Me. We even said good-bye to groups as they went off-site, out to explore different parts of Ireland, including the gorgeous Cashel town , Fethard and some lucky Guides even got to get close and personal with some some giraffes and monkeys in Fota Island.
We were absolutely blessed with weather today, the rain stayed away for most of the day. But, hey, we're at camp – the rain isn't going to stop us anyways. As I walked through the IGGNITE village, it was so beautiful to see girls all over the world communicating through song, dance and games. It really got me excited for our Guides Own taking place in the evening.
As it came closer to 7, everyone started arriving up to the big marquee. After many preparations throughout the day (and many months before we arrived) the team we were ready to start for what was sure to be a memorable ceremony.
As the ceremony commenced everyone was aware of the fact that it was a peaceful ceremony, with a lot of time to reflect throughout the evening. Everyone got time to think about others and themselves. We had beautiful dancers and singers from all across Ireland, and indeed, all across the world.
I don't want to spoil what happened in it, but you can find it on the Irish Girl Guides website. (You'll also find our Opening Ceremony, and in the future, our IGGNITE's Got Talent footage, our Campfire and our Closing Ceremony)
I can't believe we are half way through camp – it has been incredible and I hope you have been enjoying our blogs, photos and snapchats! Please look out for us tonight – in IGGNITE's Got Talent. Who are you shouting for???
COME ON THE LILY REBELS!!!!!