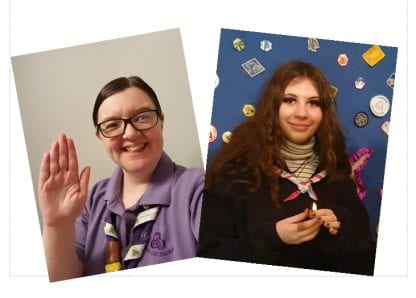 IGG members Choose To Challenge
Members of Irish Girl Guides (IGG) are among 10 million girls and women across 152 countries taking part in a Choose To Challenge campaign ahead of International Women's Day (IWD) on Monday 8 March 2021.
As part of the World Association of Girl Guides and Girl Scouts (WAGGGS), a partner organisation with IWD, IGG members are joining a global call to end gender bias, discrimination and inequality around the world.
Girl Guides are taking up the 2021 IWD theme of Choose To Challenge by sharing #ChooseToChallenge posts on social media saying what injustice they are choosing to tackle. These may include gender inequality, gender-based violence, climate change, plastic pollution, period poverty, malnutrition and other areas where they see injustice.
IGG volunteer Jemma Lee, who is a WAGGGS Ambassador for IWD this year, says Girl Guides are encouraged from a young age to think for themselves, to advocate for change and to transform challenge into change. She says, "IWD provides us with a platform and opportunity to celebrate the achievements of girls and women but also to come together across sectors to raise awareness of the need for greater progress. We are looking forward to sharing what our members will Choose to Challenge this year.
"Personally, I #ChooseToChallenge gender inequality. This might sound like a huge thing, but really we're doing it every week at our Guide meetings. Every time we ask a girl to be a Sixer or a Patrol Leader, we are empowering a future female leader. Every time we do activities for the STEM, Aviation and Engineering badges, we are breaking down stereotypes and encouraging girls to explore the full range of their skills and talents.
"Every year our members get involved in IWD," she continued, "And this year is a special one as both IGG and IWD are celebrating 110 years of empowering girls and women!"
Rachael, a Senior Branch member from Drogheda, is choosing to challenge the stigma of mental health issues facing teens. She says, "I believe that many teenagers are having issues with their mental health through the trials and tribulations of Covid lockdowns. Many are suffering in silence. I want to find new ways to give them a voice and show them how to find resources to help. We are all in this together."