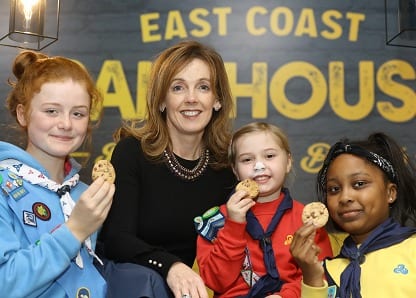 Galway girls visit Girl Guides cookie factory!
The girls of Merlin Woods Unit, Galway, won a trip to East Coast Bakehouse – where Irish Girl Guides' cookies are made – by selling the most packets of cookies during last year's National Cookie Month! 1,560 packets!!
Here Merlin Woods Leader, Sheenagh McLaverty, writes about their experience:
November 2017 was an unexpectedly exciting experience for the Ladybirds, Brownies and Guides of Merlin Woods in Galway City.  When the concept of cookie-selling was introduced at the Regional Conference that September, we the Leaders thought this would be a good opportunity to raise some much-needed funds for our Units.
IGGNITE had been a big success for the Guides but most of the Unit funds were exhausted and the need to build up some good camping equipment for future camps was a priority.  We placed an initial order for 25 boxes between the girls and were very anxious that we might not be able to sell that many … how wrong we were!
The girls were super enthusiastic going home with their order forms, which we got from the Cookie team. They were to come back a week later with their orders and we were dumbstruck at the volume of orders … we had nowhere near enough to satisfy all the orders! Some girls sold more than a full box each; Ladybirds were surprise successful sellers – clearly it's very difficult to say no to a cute Ladybird bearing cookies!
We placed an order for more cookies, and even a third order! The final order was a little more challenging to sell as it looked like the girls had exhausted all the familiar customers of family and friends. We had to put our thinking caps on as to new selling strategies. The Brownies and Guides set up pop-up shops in the local community centre and local Tesco and we also went into a couple of local businesses (Deloitte and EA) where we were allowed to sell to staff going in or out of work. In the end we sold 1,560 packets (65 boxes) which meant a massive €1,560 euro for our Units and also money for Irish Girl Guides.
As a reward for this selling venture, the girls were invited to visit the East Coast Bakehouse factory in Drogheda. The timing of the visit was perfect – mid-term 2018 – just as we get ready to launch into cookie selling part deux and try to earn the Cookie Seller Year Two badge. We had an absolutely amazing workshop with Alison Cowzer, owner of East Coast Bakehouse (and a Dragon from the Den!) who told the girls in detail how the cookies are made, listened to the girls' ideas for how to sell and did some taste tests. One photo shoot and 22 goodie bags with lots of cookies inside later, we hit the road for Dublin City Centre to visit Deloitte headquarters for a Cookie Selling Strategy workshop!
The 22 Guides, Brownies (and one Ladybird!) were treated to an invaluable workshop on the 5 Ws of a project like this …What, Who, Why, When and Where. This was right after they were treated to some lovely pizzas and treats! They broke into groups and, with the help of an analyst per small group, they started to tackle the Ws … the highlight for everyone was being able to write all over the walls with no consequences (not to be tried at home)! It was amazing to see the girls present their ideas at the end without inhibition or fear in front of their peers, their Leaders and some new friends.  In line with the IGG tagline, this adventure truly gave the girls confidence!
All in all, it was an awe-inspiring day. Our Brownies and Guides were so lucky to be given the opportunity to visit two very diverse business entities – an introduction to entrepreneurial activities as we launch into National Cookie Month 2018. We are beyond grateful to both East Coast Bakehouse and Deloitte for the marvellous opportunity this day gave our girls.
We can't recommend cookie-selling highly enough… with a little commitment and some hard work, real rewards for your Units can be achieved.