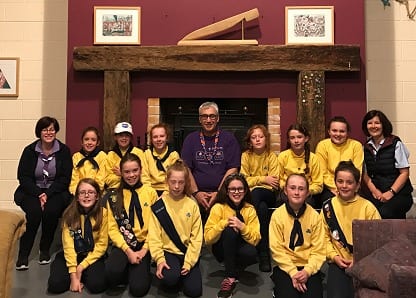 Gaining confidence on camp!
St Killian's Brownies, Mullagh, had a fabulous time at camp in Castle Saunderson!
Thanks to Brownie Abby for telling us about it:
I had a brilliant time at Castle Saunderson. After we got settled in, we ate yummy pizza, then watched a movie before we went to sleep.
We had really busy days while we were at Castle Saunderson. I liked crate-stacking but my favourite activity was rock climbing. We also learned how to make friendship bracelets. I love mine so much I wear it everywhere. I also liked what I learned about camping.
I enjoyed the whole trip and I was sad it ended so soon.
Leader Veronica Quinn says:
The IGG tagline 'giving girls confidence' was very apt for the weekend with girls encouraged to try crate-building and rock climbing. And they achieved it! Even those who didn't at first want to participate!
We were delighted to be joined by Rebecca, our new North East Regional Development Officer, for a few hours on the Saturday.
We would like to thank Castle Saunderson for the use of their wonderful premises and surroundings. We also appreciated the opportunity to meet Stephen, chief volunteer of Castle Saunderson, who was funny and enlightened us all with some of the history highlights of the area and gave every encouragement to the girls while crate-building. We would also like to thank Cormac, Operations Manager of the centre, for looking after us and assisting the girls with the night campfire, rock climbing and the backwoods challenge.