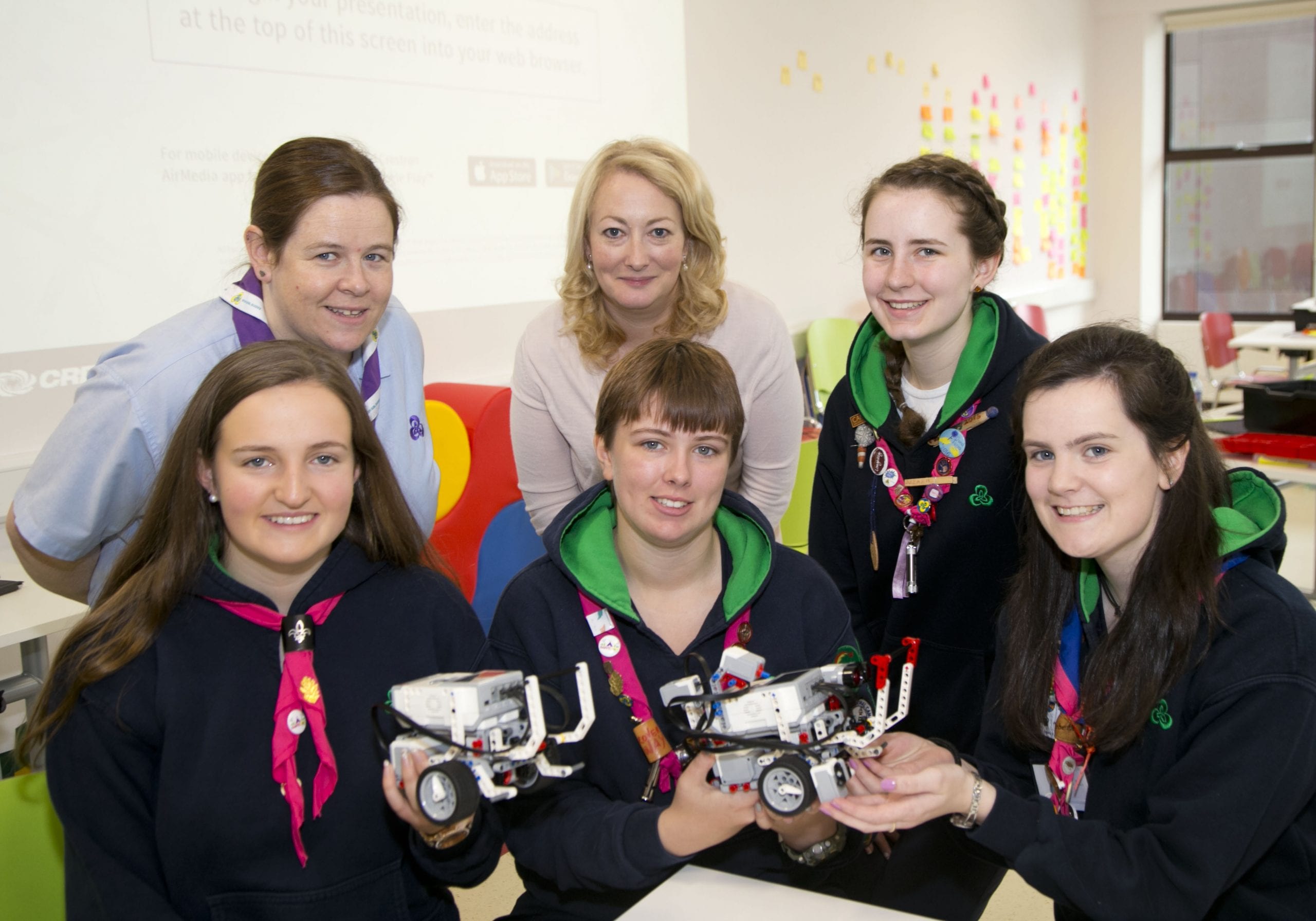 Discovering the fun of STEM through Lego Robotics Summer Academy
Twenty-two members of Irish Girl Guides aged 14-22 took part in a Lego Robotics Summer Academy in Dublin City University's LEGO Education Innovation Studio. Here two of the participants, Maggie Cumiskey and Méabh Lonergan, tell us of their experience.
Before starting our LEGO camp journey, we were all very excited and a bit nervous.  Some people came with friends, some with sisters, and some went without knowing a single person.
We arrived in St Patrick's campus, DCU, on the Monday morning. We were each assigned our own room in student accommodation, which comprised of a desk, bed, wardrobe and a sink.
Each day was different on the Robotics course. We were gradually introduced to the robots and the idea of coding. We started off rather simply with a cute robot called Milo. Building the robot was really fun as I think most of us hadn't played with LEGO in years. It was really nice to be able to sit back and feel like a kid again! Coding Milo was also really fun and surprisingly easy. We followed instructions step by step to make him go forwards and backwards as well as make him stop with different sensors.
At first it was really daunting because I don't think many of us had done any coding before. However, once we got into it, it was very easy. Each of us turned to our partner at some stage and said "That was us. We did that!" and maybe high-fiving each other every once in a while.
After Milo, we moved onto a new, slightly more complicated robot. We built him as normal but the coding was slightly different and way more specific. It was a lot harder to make him move and there was a lot more work involved to make him go. We had to measure the distance we wanted him to move and then calculate the number of wheel rotations needed to get there. My original thoughts were "Oh dear God, maths. I haven't done maths in two years!" It was very easy maths, though, so I was very relieved. We also could make this robot turn, unlike Milo, which took two robots. On this new one we had to be very specific and calculate the exact degree we needed. He was a lot more challenging but also a lot more fun. It was really cool to code it ourselves and make it complete little challenges that we were set.
We used this robot for the rest of the week in our "Mission To Mars" project. This was so much fun and I think it's safe to say the most enjoyable part of the week. We were all split into groups of four and given a new robot to build (We called him Tobias Walowitz and Brobot). The aim of this project was to build and code a suitable robot to complete up to seven challenges on Mars in under than two and half minutes. This was so much fun as we had the freedom to extend our robot and use the skills we had learned in the prevoius few days. We measured, calculated distances and angles like crazy. There were so many different emotions running through everyone those few days when it went right and when it didn't. Needless to say, we were all very proud of our robots when we finished the challenges. Especially as both our teams came at a respectable first and second.
During the week, we heard talks from Dr Niamh Shaw, a woman who took part in a Mars simulation experience and Rosemary Steen, director of Eirgrid.  It was interesting to hear these women speak, and hear their opinions on how to succeed in male-dominated areas.
After we left the robotics room, we took part in a number of evening activities:  we went to the cinema to see Baywatch and Wonder Woman, went rock climbing in Awesome Walls, went to Bounce Zone, and finally visited Google and Milanos! These were a great way for us to push our comfort zone and get to know the others better.
We learnt a lot from this week: like, how to programme a robot (of course). It wasn't as hard as I imagined: so much of it was measuring and working out angles, before writing them into a basic code. I'd never played much with LEGO before and I was surprised at how easy it was to build a robot that could grab, lift, drop and spin things. Overall it was an excellent week and I think we were all sad to be going home. It definitely opened our eyes to the world of programming and computing, and especially how women can influence STEM.
One of the best parts of the week was because of the fact that, as we were such a small group (22), we all bonded really well with the others over the five days. Seeing each other push our comfort zones in the evening activities, watching each others' creations fail and succeed, and supporting each other all the time, (and having impromptu singalongs to Fall Out Boy), made us become great friends, and feel almost like one big (and loud) family by the end of the week.
We'd like to thank Ross, Rob, Deidre, and all those at DCU for creating such a fab week, Rosemary and Niamh for giving up their time to talk to us, and Lorna and Emer for organising it, and making sure we didn't die or get lost in Dublin. And the other girls, for grabbing the opportunity with both hands (and not killing me every time I asked them could I use them on the IGG and SB snapchat stories).
Make sure to sign up for next year!