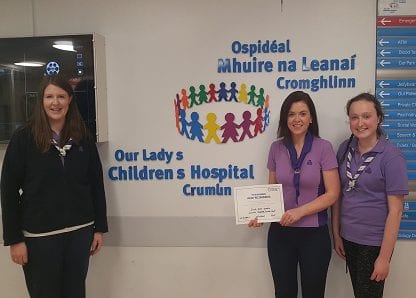 Crumlin Hospital Unit receives Olave Award!
Well done to Crumlin Hospital Girl Guide Unit, which has received an Olave Award from the World Association of Girl Guides and Girl Scouts (WAGGGS) in recognition of its "outstanding service to the community".
The Olave Award is an international award to honour the memory of the World Chief Guide, Olave, Lady Baden-Powell, and to keep alive her belief in the spirit of service. It is awarded by WAGGGS to Girl Guide groups around the world that have created change in their communities.
IGG Leader Róisín Fitzgerald, who runs the Crumlin Hospital Girl Guide Unit with a team of volunteer Leaders, says: "We are delighted that Crumlin Hospital Girl Guide Unit has been recognised by WAGGGS for the role we play in bringing a new fun experience to children who are ill in hospital. We are very proud to be associated with other outstanding projects across the Guiding world.
"Each week we meet brave children who are facing health challenges at a young age. We offer them a brief distraction during their stay in hospital and give them an opportunity to have fun, to learn new skills, and to meet fellow patients that they would not otherwise get the opportunity to meet. The commitment of the Leaders over the last nine years has been outstanding and their enthusiasm for the project has ensured the service that we provide is of the highest standard."
Crumlin Hospital Girl Guide Unit, which was established in 2008, is the first and only Guide Unit active in a hospital in Ireland. This unique project was set up to bring Guiding to children who are in need of fun and distraction from their illnesses. Once a week a group of volunteer Leaders bring girls aged seven upwards away from their wards for an hour and a half of fun and activities.