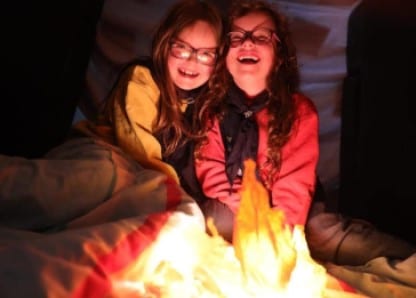 Camp At Home a huge success!
Thousands of IGG members and their families took part in a nationwide Camp At Home the weekend of 18-19 April 2020.
Some girls chose to camp in tents in their garden while others made makeshift dens or shelters indoors.
Many of the girls made campfires on which they cooked their dinners and made s'mores – toasted marshmallows eaten between two chocolate digestive biscuits – a favourite of Girl Guides throughout the world. Some used their imaginations and creativity to make campfires out of recycled materials while others made (and consumed) edible campfires!
Everyone found our Camp At Home resource pack an invaluable resource as it gave them ideas for games, activities and challenges to do during the camp. The scavenger hunts, crafts and puppet shows proved especially popular, as did the traditional campfire songs.
Camping and overnight events are an integral part of the Guiding experience and, given that this year's trips have had to be postponed because of the Covid-19 pandemic, IGG came up with the Camp At Home initiative.
We were thrilled with the response and received over 500 photos from members throughout the country. Parents were delighted too because it boosted families' spirits and gave everyone something positive to do.
Children and young people are experiencing stress and anxiety at this time, just like adults. They are missing their friends and usual activities, so we have put our thinking hats on and coming up with creative ideas and initiatives to boost their spirits.
Keep an eye on our Facebook page where we are regularly posting ideas for activities children and young people can do at home. You can see lots of photos of our Camp At Home in this Facebook album.
We will be holding another Camp At Home the weekend of 5-7 June, which will have a Sustainability theme to tie in with World Environment Day (5 June). Keep an eye on the news section of our website and on our social media for further information and resources!