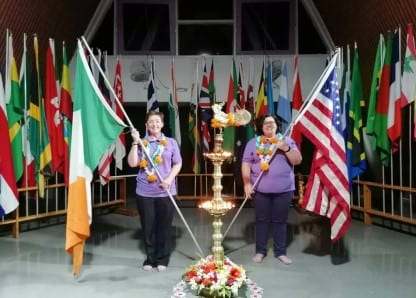 'A little piece of my heart will forever be in Sangam'
To mark the start of the Senior Branch centenary year, a group of Senior Branch members and Leaders went to Sangam World Centre in Pune, India. Here Chris Cumiskey, a Leader with Dundalk Senior Branch and Boyne Valley Brownies, writes about her experience:
I didn't sleep much the night before. I had signed up for the Senior Branch trip to Sangam the year before, but I really wasn't sure what it would involve. All I knew was that I had dreamed of going to India since high school and Sangam for many years and that day was almost here!  Could I do it or was it all going to be too much?
The alarm went off at the crack of dawn and my adventure began. I met the other Leaders and Senior Branchers at the airport, some faces familiar, many not. Most were still sleepy but there were nerves and excitement to be felt as well as we waited to check in. By the time I was settled into my seat on the plane I was tired but excited and a little overwhelmed by this adventure that was turning from a dream into reality.
The journey was long but comfortable. We arrived in Sangam 24 hours after leaving home the day before exhausted, disoriented and a little bit overwhelmed. I had gotten glimpses of India during the four-and-a-half-hour bus journey from Mumbai but really couldn't appreciate it. It all felt like a dream. I was invited into the dining room for my first breakfast at Sangam and ate in exhausted near silence before listening to Sangam's welcome talk and then finally falling into bed for a much-needed nap.
That afternoon I was woken up by my roommate because I had slept through lunch and a contingent meeting was about to start. I raced down to the hall, took off my shoes and entered the hall. There were a lot of new faces and I was wondering how I was ever going to learn everyone's name. We had a chat, introduced ourselves and we were off. Everything was starting and it was exhilarating!
We were broken down into groups and taken on a tour of Sangam. It was absolutely beautiful. The complex with its landscaped gardens surrounds its centrepiece – the large pool where we had quite a few evening pool parties. The place was a lot bigger than I had expected, with gardens and green spaces everywhere. There was even a yoga studio for anyone who wanted to try early morning yoga. I was never able to wake early enough to attend but I heard it was amazing.
I started my days with a not-so-early morning swim and finished many of my days that way as well.  After the dust and heat of the day it was so refreshing! Other than the main hall, where we had our workshops, with its huge arched windows overlooking the pool and gardens, we were outside most of the time. I especially loved eating outside at the tables overlooking the pool.  Sangam is a little oasis of tranquillity from the noise and chaos of the street just outside the gates.
Walking through the gates of Sangam took me into another world. My first impression was absolute chaos!  Cars and rickshaws and cows and people were everywhere, going in every possible direction and making as much noise as possible. Ladies of every age wearing beautiful, bright saris contrasted with the dusty, run down store fronts. The smells of incense and street food distracted from the stink of the rubbish that was piled everywhere.  And the feel of the dust that seeped into my pores and tickled the back of my throat thanks to the traffic was constant.  It was all so new and overwhelming, exciting and wonderful! I was here! I made it! The adventure was really beginning!
After our first walk around Pune, a few Leaders and I decided to explore a side street before returning to Sangam. That's when I realised how amazing the Indian people are. They were as curious about us as we were about them.  As we walked, we were met by a few young girls in their school uniforms who smiled at us shyly.  One of them raised her hand for a high five, so I gave her one.
We walked on and were met by more and more children, smiling at us and calling 'Hello lady' and putting their hands up for high fives.  By the time we had walked about 200 meters we had a swarm of about 50 kids surrounding us smiling and looking for high fives. I felt a little like the Pied Piper when we decided to turn back.
The main focus of our stay was our Community Action Project (CAP) where we would be going out into the community to volunteer. This was something that we had all been thinking about and planning for months now. I was really excited about meeting people from the community and seeing what life was like in this part of India and, hopefully, make a difference.
During one of our workshops, we were told of the six places available for us to do our CAP.  They ranged from schools for able children, disabled children to a school on wheels visiting the poorest of communities in Pune to old age homes and homes for mentally challenged women.  We were asked to list our top three choices with the reasons why we chose them.  We were advised to pick places that were out of our comfort zone as this trip was meant to challenge us.
I chose, and was assigned to, a school for the mentally and physically handicapped.  This was going to take me way out of my comfort zone as I had never had any dealings with children with disabilities and the idea was pretty scary to me.  We arrived the first day and got to observe some handicapped kids taking part in a PE class.  The kids had varying degrees of disabilities and we tried to assist in any way we could. I wasn't quite sure how to help so I observed as they did some exercises and played some games. There were other classrooms where the kids were doing Indian dancing, music and singing. There was also an art competition going on. The teams I observed were deaf and it was amazing watching them communicate and seeing the standard of artwork they produced.
I finally ended up in a hall with one of the deaf teachers from the art department who was busy preparing some decorations for an upcoming festival. He communicated to us that we were to cut triangles and diamond shapes from a bunch of heavy-duty cardboard tubes with some small blades. This was no easy feat as the blades were small and not very sharp. We also had to paint the tubes with thin white undercoat which, though less difficult, was very tedious. Things were going very quietly until two of the deaf teenagers joined us and tried to communicate with us. Luckily, I remembered how to sign the alphabet and was able to spell out everyone's name to the students. From then on, things got to be much more interesting! We chatted with the students who wanted to know all about us. Between signing and writing things down on post it notes, we learned about each other.  Even the teacher got involved and we found out that he is a swimming instructor in his spare time!  We are Facebook friends now and he Skyped his wife one of the days so I could meet her. I ended up sending her one of my homemade swaps that I had brought from home. She was delighted and Skyped back the next day to thank me.
Lunchtime saw everyone go outside to eat. We took our packed lunches from Sangam out and picnicked with all of the kids and their teachers. There were maybe five schools visiting each day so there were over 100 kids there each day. Once the kids finished eating, they were allowed to play in the grassy field. I noticed some of the deaf boys were kicking a soccer ball near me so I left my lunch and asked them if I could play. They were a bit confused at first as to why an adult wanted to play with them, as I don't think adults tend to play in India, but they quickly included me and we kicked the ball back and forth like any other kids anywhere else in the world. Eventually other Leaders joined in as well as more and more kids. We all had a great time and the lunch hour passed much too quickly.
The next day we decided to bring some toys for the kids to play with during lunch, so we packed a parachute, balloons and some badminton equipment. The kids were so excited and there were almost riots over the balloons – they all wanted one of their own. Once the equipment was passed out and the kids were assured that there were no more balloons to be had, they broke off into groups. The younger kids went to play with the parachute and the squeals of delight were heard throughout the school. The boys very quickly ran off with the badminton racquets and refused to let the girls play, a familiar struggle. I played catch with a bunch of the girls with their balloons. It was a pretty quiet game as they were deaf, and we couldn't use our hands for signing but we had fun anyway. I eventually noticed a little girl who was standing on her own. I left the older girls to see if she was ok.
She was blind and mute (I'm not sure if she was deaf as well) and had no-one to play with so I gave her my balloon. We worked out fairly quickly how to have a game of catch and spent the remainder of lunch playing catch together. She had the most glorious smile on her face as we played together that I was reluctant to stop, even when her class was being called to go inside. That is one of the experiences that I will never forget. I found out later from one of the teachers that that group of kids came from a very disadvantaged background. Most of the parents work very long hours and are too tired when they get home to parent their children, so the kids pretty much raise themselves. The teacher explained that the kids 'come to school to receive love'. I hope the kids remember us and that day we all played together.
As the days passed, my confidence grew. Walking to Wadi, the next neighbourhood, that started as such an adventure became commonplace, taking a rickshaw was no longer a big deal and even crossing the street was now easily done. I had settled into life in Pune quickly and easily with the help of the Sangam team. Each day they gave us another small challenge so that I didn't even realise that I was gaining confidence, so by the final day I was ready for my ultimate challenge – the Pune Leadership Challenge.
In teams of three we were to travel around Pune and visit three assigned destinations – a temple, a museum and a park. We had to get ourselves to each of these destinations and do the assigned challenges there, returning to Sangam by a certain time. This would have been unthinkable when I arrived in Pune just over a week earlier, but now we were able to do it with ease and the three of us thoroughly enjoyed the challenge , right down to trying out some of the wonderful street food!
Going to Sangam World Centre was so much more than just visiting India or doing some community service. It added an intangible element to the trip that is impossible to define. I could see the group bonding and gaining confidence by the day. From campfires to pool parties, to planning and organising our CAP we came together. Our Senior Branch girls amazed and inspired me by both what they had to say and how they said it. Their insights were profound and their public speaking skills were amazing. Their ability to try new things, organise and get things done were inspirational. I was so proud of them all and honoured to be part of this trip of a lifetime.
When I look back to how worried I was at the start of the trip, I can see how far I have come.  It has been challenging but I did it and I am very proud of myself. Saying goodbye to Sangam was not easy but a little piece of my heart will forever be there.