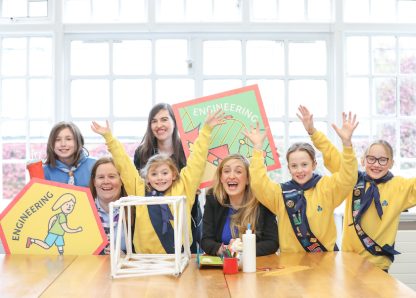 Brownies and Guides take on the Engineers Week Challenge!
Which IGG members this year will scoop the coveted titles of Top Guide Engineers and Top Brownie Engineers?
Engineers Ireland have once again come up with a challenge for all Guides and Brownies in the run up to Engineers Week, which runs from 29 February to 6 March 2020.
If your Unit has already completed the Engineering badge, you'll already know how engineers design, build and test a new product. Now it's time to take the Engineers Week Challenge!
If your Unit has yet to complete the Engineering badge, the Challenge is a fantastic opportunity to work towards gaining the badge.
Each entry submitted before the 30 April deadline will be judged by the Engineers Ireland STEPS Dragons, with the winners crowned Ireland's Top Guide Engineers or Ireland's Top Brownie Engineers.
There are fantastic prizes up for grabs, including a Bricks 4 Kidz STEM Voucher – a STEM workshop for your Unit.
Entries should be made using the Engineers Week Challenge Workbook and posted to arrive at STEPS Engineers Ireland, 22 Clyde Road, Ballsbridge, Dublin 4 by 30 April 2020. Entries may be completed using pencil, pen, crayon or felt tip markers. An information booklet for Leaders may be downloaded here.
Engineers Week is a campaign held annually to promote engineering as a career and the importance of the profession to Ireland. The week-long campaign is coordinated on a national basis by Engineers Ireland's STEPS programme – funded under Science Foundation Ireland's Discover Programme and supported by industry leaders Intel, Transport Infrastructure Ireland, Arup and ESB.