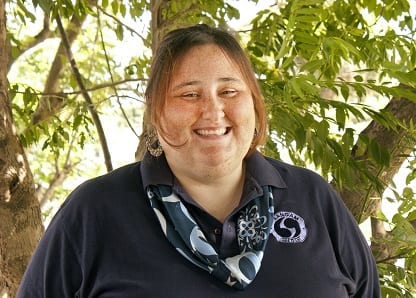 Reflections from Sangam
As World Thinking Day rolls around and my first in over five years celebrating it back in Ireland I am delighted to share a snippet from my experience of calling Sangam World Centre and India my home for 1720 days!
Firstly India -what an amazing country, from the colours, the noise,  the festivals, the vibrancy, the hustle and bustle and the warmth of the people, it was a real honour calling this country my home!  If you even think just slightly you would like to visit India, then I would say GO … the best way to start is to check out Sangam's website for upcoming events, community programme experience dates and volunteer opportunities.
Another big honour for me was getting to represent the Irish Girl Guides and when I got to see the Irish flag flying high at the opening ceremony of the 107 events that happened during my time at Sangam. There was lots of fun and laughter had when I attempted to teach Irish dancing at international nights and special memories of enjoying Tayto sandwiches while watching and explaining Moone Boy with the Sangam family.
During my time at Sangam I got to meet over 5,000 Girl Guides and Girl Scouts from all around the world! I also got to work closely with 13 other international staff, 36 Indian staff and volunteers in training from the local community, 71 volunteers and interns and 125 tare (community programme participants). So on a daily basis I got to experience the true friendship and sisterhood of global Guiding, have such interesting conversations, learn so much about other cultures. I am so privileged to have friends I can visit around the world from Australia, Chile, Costa Rica, Canada, Japan, Kenya, Nepal, Rwanda, Slovenia and Sweden, to name but a few places.
I was also one of the very lucky ones who got to be part of Sangam's 50th birthday celebrations from the early planning stages in March 2013 right through to the big day on 16 October 2016 when 1000+ friends from around the global and local community joined us in Sangam campsite for the BIG celebrations.
My time at Sangam flew by so fast and I have so many stories I would like to share that I could write a book! However, if I could leave you with one thing from my time at Sangam it is that amazing, wonderful, exciting things can happen when you're brave enough to try and take the chance on the new and scary opportunities.
By getting on the plane on 19 July 2012, just days after CAMP 101, despite being so nervous, anxious, doubting myself and so tired, I got to experience so much from the kindness of strangers who are now lifelong friends, to being able to call the amazing country of India my other home to  having dared myself  to  do all of the following from driving a rickshaw and scooter, trying Bollywood dancing, hanging upside down in an Ariel yoga hammock, abseiling off the Sangam water tower, to travelling solo in India, including taking an overnight sleeper bus and finding my way around Delhi train station at midnight.
This all happened because I took that first step to apply! So I would encourage you to BE BRAVE when new opportunities come your way, just GO FOR IT !!!
"Life is too short to wake up in the morning with regrets.
So love the people who treat you right, forgive the ones who don't
and believe that everything happens for a reason.
If you get the chance, take it,
If it changes your life, let it.
Nobody said it would be easy, they just promised it would be worth it"- Dr Seuss!
PS I would be more than happy to talk with any Units interested in hearing more about my Sangam experience or to anyone considering visiting Sangam World Centre if at all possible. Please just get in touch through IGG National Office – 01 6683898 or info@irishgirlguides.ie.