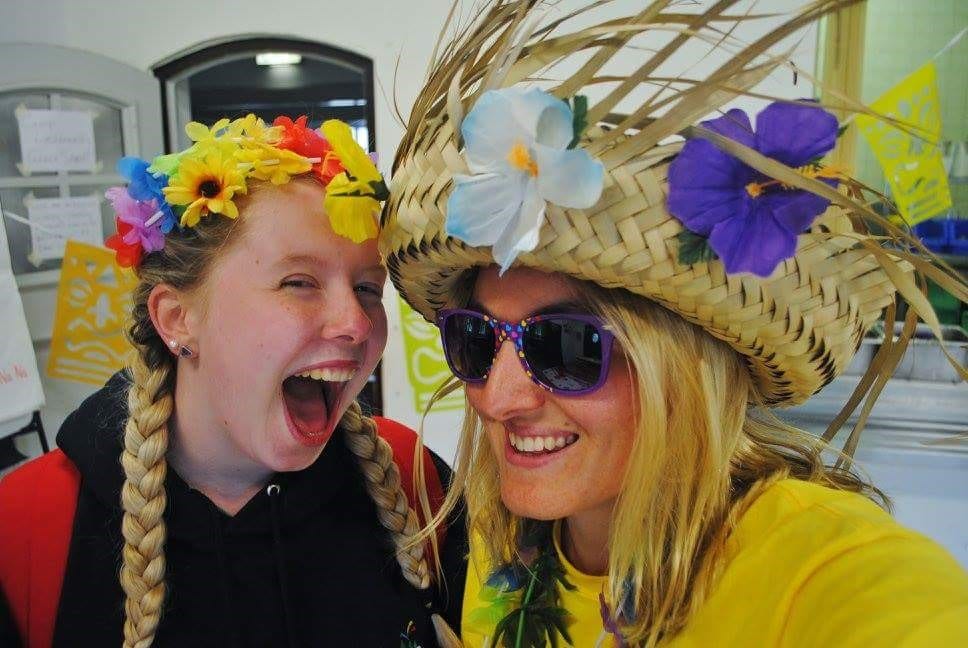 'I recommend volunteering to anyone with adventure in their hearts'
My name is Edel Harty and I am a Senior Branch member in the South West Region, (but my camp name is Sunflower) and I'm here to tell you all about the amazing experience I've had during my last two summers as a staff member at Camp Lachenwald!
I stumbled across this opportunity in 2016 as I was reading the IGG weekly communications newsletter and I thought 'Why not?'!
I had no idea what I was getting myself into but, before I knew it, I was booking my flights from Dublin Airport to Munich.
Camp Lachenwald is a resident camp that is held for one week for USA Girl Scouts who are stationed in a European country because one or both of their parents are in the military/navy and are not living in the United States. It is such a great way for girls to make friends with fellow Girl Scouts who may have to move to a different country every two to three years.
Pre-Camp
Pre-Camp was a great opportunity for all the staff to get to know each other and their camp names, figure out our schedules for our girls and make sure everything was set up and ready to go. Don't get me wrong, this is very tough work. This year we had 115 girls at camp and each unit needed to be cleaned out, provided with cooking utensils, picnic tables and benches, mattresses etc! Staff and the campers slept in platform tents that held 6 cots each.
A Typical Day at Camp
7:45-8:00 – Morning Flag
We raised the American, German and Girl Scout flags.
8:00-8:15 – Singing time
All girls and staff head to the singing porch and sing camp songs and grace to get us in a good mood for the day!
8:15-8:45 – Brekkie
This is very different to Irish camp breakfast – at Lachenwald we had American cereal, cinnebuns,  fruit and, every second day, we had a cooked breakfast. One morning we had a unicorn-themed breakfast and it was truly magical!
(I have no breakfast pictures because generally people were understandably cranky this early!)
9:00 – Lunch
The girls did two different rotations of activities (with snack in-between). The activities included arts and crafts in the Kunst Haus (Art House) like Tie Dye (my absolute FAVE), outdoor activities like archery and shelter building, STEM (Science, Technology, Engineering and Maths), like building catapults and learning about simple machines. On the Monday and Tuesday of camp the older girls had a canoeing and high ropes trip, which they really enjoyed!  We then would have lunch normally on the green and sometimes we even got official Girl Scout cookies for snacks (which are delish)! We then had two more rotations of activities before dinner.
17:45-18:00 – Evening Flag
We would retire the American, German and Girl Scout flags. There are specific ways to fold the American and German flags, which we taught the girls.
18:00-18:15- Singing porch
Everyone joins in song to get in the mood to line their tummies. I learned so many different songs that I had never heard before … along with the actions, of course!
18:15-19:00- Dinner
We had a different themed dinner every night! We had Italian Night, Chinese Night, Mexican Night and Hawaiian night. The dining hall was decorated as per the theme and the food to match!
As I had the Brownies, after dinner we would bring the girls to the shower house and head for bed – you would be amazed at how long this process took! Older girls continued activities like glow in the dark archery and street art.
Thursday 27th July- Europapark Day!
Camp Lachenwald's theme this year was Thrills and Adventures so 150 of us headed off to Rust on a bus to the second largest theme park in Europe. We had such a fantastic day filled with fun and thrills.
The kids returned home on the Friday to many different European countries and all the staff were happy, yet sad, that camp had ended. We headed out for the annual staff dinner where we shared funny stories from the past week and we received our "paper plate awards". I was awarded the "Brownie Whisperer Award" as staff had joked all week that I had some sort of magic power to handle 21 Brownies!
I had an absolute ball with the best staff team anyone could ask for. From campfires to thunderstorms, I experienced everything that Girl Scout camp had to offer and it's an experience I will never forget.
I truly have made friends for life and I would highly recommend volunteering as a staff member to anyone with adventures in their hearts!