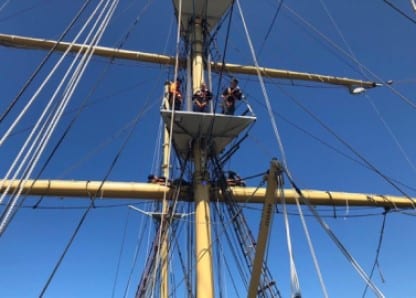 New skills and new friends aboard a tall ship!
Kaitlyn O'Regan of St Bridget's Senior Branch, Clonmel, was lucky enough to sail the high seas on board the Pelican of London tall ship. Here she shares the journal she kept during the voyage:
Day 1
I arrived feeling anxious but excited to begin a new adventure. Unfortunately, I mixed the ports up and went to board the wrong ferry.
It took around four hours in the ferry to get to Holyhead, but it was a good way to get to know people before meeting the Liverpudlians. It also gave me the chance to chat with Sarah, the other Senior Brancher I was travelling with. From the ferry we embarked on a two-and-a-half-hour bus journey. I gladly used my time to sleep.
Walking down the port, it was surreal seeing the Pelican of London! There were already people on board and, compared to the ship, they looked like ants. I was introduced to loads of people – names and faces I'll never forget. I found my bunk and made my bed; I was sad to see I had a top bunk as I am a keen sleepwalker. We went through the rules and code of conduct; being in such a small place with about 40 people heats up quickly. After code of conduct, we went back to our cabins and then chilled in the mess for an hour or two. We were called to go back to the cabins and Tamsin went through making sure everyone knew where they were sleeping.
To my surprise, Tamsin told me that I had been re-allocated a bottom bunk. Apparently, while talking to a member of staff, I told a story where I locked myself out of my Berlin hostel at three in the morning. So, out of safety for me and the crew, they said it would be best if I didn't go wandering around the ship at night.
We ate a lovely dinner made by our famous chef Abbie and had a safety talk. We were shown how to safely use a life jacket, dry suit and what to do in case of an emergency. We then had an emergency drill; it wasn't our lucky day and it was lashing rain but, as I learned today, there is no bad weather – just bad clothes.
We hung out around the boat getting to know each other more and were sent to bed.
I felt like I'd bang my head constantly off everything because everything was … emmm …. let's just say, built for small people.
 Day 2
Was woken by a crew member, who I could only believe was Tamsin by her accent, at 6:40 on the dot. Believe it when they say they run a tight ship around here!
I went upstairs and was greeted by only one person – a member of crew – shortly after followed by the Captain (I suppose up to do Captain stuff).
I set out breakfast with our Abbie and, a good while after, everyone else assigned the galley that day followed. Apparently, they weren't taught punctuality like us Girl Guides! After breakfast I washed and cleaned and started to help Abbie (the chef) with preparing lunch – courgette frittata.
Washed and cleaned again and had a short breakfast break. We did some more training, we were led through the ship and shown all about the workings of the ship. I walked out onto a net of ropes hanging over the bow of the ship and untied a sail. My knees were weak, but I got on with it and gave it a go. Then I went and made turkey schnitzel and orange cakes. I had night watch from 12-4 although I was already exhausted. While having a chat with John from Cork, Leonie from Dublin and Caoimhe, also a Dub, I was summoned by the main crew to get out my guitar. A crew member took her violin out and we had the most interesting and fun session I've ever had; we had everything from a 12 bars blues to a little bit of My Girl by the Temptations. At this point, more guitars joined the band and we all ended on the most Irish note possible – by singing Grace.
I felt as though being in a boat makes you have more meaningful conversations with people. I spent maybe two to three hours chatting with my bunk mate Makayla and another Irish person Erin. Many people joined and left the conversation but in the end John, a mentor, told me it would be best to have a rest before going on night watch at 12. So, yep, really eventful.
Day 3
Was woken for night-watch, probably the coldest I've ever been in my life. I went on watch and that meant I sat on a big metal box and looked at the lights and tried to see if they were a lighthouse or a buoy or what. Then I went and manned the helm; I've never felt more empowered in my life! You get to stand on top of a massive step and be in charge of the direction of the ship. I did some of the navigation and checking on the humidity, locations, wind speeds, temperatures and all that lovely stuff. Then I went back on watch and kind of almost fell asleep. But I didn't! I was just resting my eyes. I was released from my watch and fell asleep at about 4:15 and was woken at 7:20 by our lovely John who doesn't understand that in order not to wake everyone up in a cabin you shouldn't turn the main lights on and yell 'Breakfast!'
I ate my breakfast and, just as I was about to get back into bed, we had to have the morning meeting. We were told we were setting sail for Belfast and would be there by lunchtime.
Quick bit of maths: today, while talking with PavaI, found out that it takes two grand to run this ship a day! Two grand a day is crazy! He and I worked it out and it costs them €600,000 to run the ship yearly and that's just the ship running costs, not having to do any repairs or anything being broken. On a busy boat like this stuff like that happens often, especially toilet maintenance. There is a special chart and if it's pee, pee freely and you can only use three two ply pieces of toilet paper per flush. Tiery, our main man on keeping the engines and pipework running, said he doesn't care how many times you must flush as long as you don't clog his toilets.
We went on a 45-minute walk to this old boat called HMS Caroline and, considering I don't usually like reading about history (I prefer to be immersed in it), I really enjoyed the trip. We went to the shop on the way back.
Day 4
Been having great chats with Shauna, Ronan and Peter – all in a group – we are getting along great. Been hanging around mostly with Shauna because she can match my unique sense of humour, which is good. We stopped using the engines and now we are properly sailing. Today I went to go on my phone and realised I couldn't do anything with it because I had no service and it was so nice, like no one to have to chat to, no-one bugging you. Not knowing what was going on in the world right now was amazing!
We left Belfast at about 10.30am and I was dead proud of myself because I manned the helm for two and a half hours (normally you do it for just a half hour or less). I got the hang of it but it got difficult once we got out into open water because the wind was pushing our stern, but I guess I did a good job because Captain Ben came up to me and said how good a job I had done.
We had a lovely lunch – mushroom risotto – and then it was time for me to do an up and over. Basically, an up and over is when you climb about 15 meters up to a mast and you're the one controlling your own ropes, like your life is in your own hands and at one point you have to clip on and climb to about 35 degrees with your back towards the ground. But that was actually my favourite part because it was a challenge. Hahaha! Just as I'm writing this the waves are so high I'm getting butterflies!
I'm starting to pronounce certain words like a Scouser and I'm scared I'll come home sounding English! I helped John bring down the lights that show other boats and ships we are anchored, and he gave me the task of being the one with all the weight on their line. I didn't mind though; it wasn't that heavy. I went up to the bikini deck and everyone made me play my song again and I got the seal of approval from everyone.
Cork John said it was lovely and Leonie told me that I have a really nice singing voice and my accent goes nice with it.
I sat and spoke with Katie in Irish because I was having withdrawals. Ronan went to an Irish school, so he joined in as well. To be honest, I don't really remember much about which day is which. It's all one big blur.
Day 5
Today was rough – from the sea to the weather – just plain old rough. The morning started out normal enough: I finished my 4-8 night-watch, so I headed down for breakfast. That's when the weather started to change as we approached Wales. Cups were knocked over, soup spilled, people were getting sick, and waves crashed over the deck. I wasn't very productive because I kept falling asleep everywhere. Fell asleep on the main deck and the bikini deck and everywhere in-between. I also fell asleep waiting for lunch. It was so rough all you could do not to feel sick was to sleep. Was woken at 12 for the night-watch and barely stayed awake for all of that. It was so, so cold and the boat was leaning very heavily to starboard side.
Day 6
Woke up early enough for breakfast. It was a hot breakfast, but I unfortunately couldn't eat it all because the waves were back again. They were even worse than yesterday, but they didn't last as long, thankfully. Lunch was couscous and I didn't have to go on watch because we anchored, so lucky me! We were given the option to go ashore in Wales, but I was so tired and wanted a break where I could shower as well so it's nice now that everyone is off the boat. Had a lovely short shower. The problem with showering in the boat is that people need to pee so you can only be in the bathroom for less than 10 minutes at a time. Today I spent ages in there and it was luxurious. After my shower, I went and played the guitar for about half an hour and now I'm just sitting snacking on some Pringles .
I helped put up the sails at the bowsprit. I was super nervous the first time I went out in it but now I've gotten so used to it that I lay there for ages chilling. My watch started at eight so, unfortunately, I didn't get to join in in the music session. I taught everyone Head, Shoulders, Knees and Toes in Irish and we were thinking about doing it for the group talent show. I had a go on the helm and I still love doing it.  Woke up and did the morning watch, climbed up the mast and stowed the sails away too. My hands are killing me at the moment from a combination of wind burn and rope burn. We anchored for a little while to give people a break from all the waves and I was asked to help put away the chain from the anchor before we left.
Day 7
Not much happened today. I climbed up a mast and helped to stow away some sails again. We were given shore leave but it was only to a Topaz in Wexford for, like, four hours. They came back from shore leave, I helped hoist up the rib, then we sang the night away. I had super broken sleep because I kept thinking I was on watch. Day seven literally nothing happened. I cleaned my stuff up so all I would have to put away on the last day was my hat.
 Day 8
Woke up and it was cold, nice and cold – no bad weather, just bad clothes. I spent the morning trying to make everyone laugh, which actually worked. I made the watch leaders feel old by telling them all the different times in their life that I wasn't alive. So far all I've done today is be awake and eat interesting, just my usual routine. I'll probably sleep soon though.
Day 9
I'm so sad to have to leave tomorrow morning. We have been docked in Dublin for about three and a bit hours now and we are all suited and booted up to do our final up and over. Thirty meters. That's very high, if I do say so myself. But I did it: it took about 20 minutes or so because of how many were doing it, but I got it done.
We sang the night away one last time and I had my final night-watch. I made the most incredible memories and friends and I learned so many new skills. I can't wait to go back again one day.