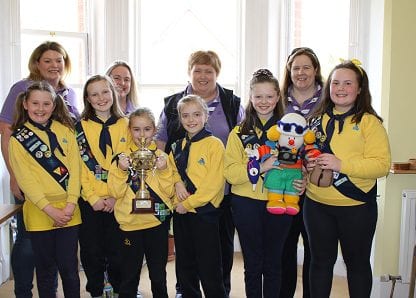 National Brownie Quiz Final
The national final of The Brownie Quiz was held in Trefoil House, Dublin, on Saturday 28 April.  The day was a tremendous success, thanks ​to the hard work of the Brownie Branch Committee.
Seven teams, each representing their Region, took part in a tightly fought competition, where the winning Unit only scraped victory with a three point lead.
The quiz consisted of seven rounds and tested the Brownies' knowledge in many different areas.
Following the quiz, a good Brownie sing-song and a fabulous lunch, presentations were made to all the Brownies by Branch Chair Margaret O Connor and Chief Commissioner Helen Concannon.
Each competing Brownie received a special badge and a framed photo of their team. Third and second place received medals while the winning Unit, which was Churchtown Brownies, received a wonderful trophy and the girls were each presented with their very own Brownie Lottie doll.
A great day was had by all who attended and the committee would like to thank all the Brownies and their leaders for travelling to National Office. They would also like to thank all the Regional and Area Commissioners who helped run quiz rounds.
First Place
Eastern Region  Churchtown Brownies
Leader: Grainne Sheehan
Second Place
South West R  Shannon Brownies
Leader: Maria O Sullivan
Third Place
North East  St. Killians Brownies
Leader: Veronica Quinn
South East          St. Bridget's Brownies Leader: Cel Fennessy
Mid West            St. Bridget's Brownies Leader: Evelyn Hayes
WCM                    Abbey Brownies  Leader: Michaela Barrington
North West         Moy Brownies  Leader:  Jackie Lavelle