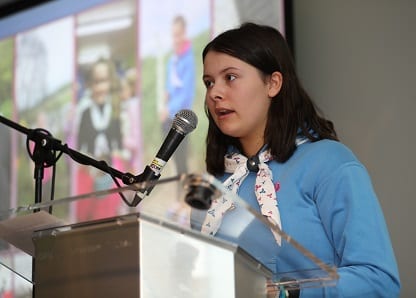 Lessons learned from chocolate!
The Chocolate Badge is, not surprisingly, a very popular badge among Guides! Earning the badge involves learning about the history of chocolate, its many uses and the importance of Fairtrade.
Naas Guides went one step further and Guide Hayley spoke about this at the National Guide Awards in Croke Park. This is the text of her speech:
Today I will be talking to you about one of the badges Naas Guides has done, which is the Guide Chocolate Badge.
When starting this badge, our Leader got us to sell chocolate bars for a charity called the Hope Foundation. We sold them in our local town to the residents of Naas and also to family and friends. We also sold them at a local market.
The next step to earning the badge was designing a wrapper for a chocolate bar company we made up called 'Guides Pumpkin Chocolate'.
It was an enjoyable experience as we also learned how chocolate was made and about the charity we were fundraising for.
I learned a lot through this experience and through Guides in general and I'm really looking forward to my new adventures ahead with the skills I learned from my time in Guides.