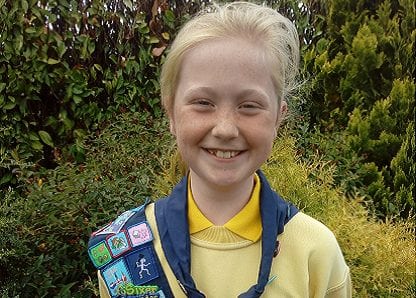 Lauren completes ALL her Brownie badges!
Well done, well done, very well done to Lauren (10) from Co Offaly who has successfully completed all her Brownie badges! What an achievement!
Here Lauren writes about her experiences since joining Irish Girl Guides:
I started Ladybirds when I was five and made new friends and had lots of fun.
I started Brownies in September 2015 – my first six was the Elves. My favourite night was my enrolment night as on that night I received my passport book full of interest badges and so I began earning badges.
I loved earning the badges that we worked on in our Brownie Unit and also the ones that I did myself at home.
My Brown Owl was Jenni and my Mum, Laura, was Tawny Owl. My big sister Bernadette, who is a Guide, helped out with games and activities.
In the first year my favourite badge was the Book Lover Badge as I am a bit of a book worm! As a Unit, we did the Cycle Safety Badge and brought in our bikes one night and worked through all the drills and had lots of fun
In the second year I was Sixer of The Little People with my best friend Andrea as my Seconder. At Easter that year we went to Mount Lucas Wind Farm and earned our Environmental Awareness Badge. That was loads of fun and we learned loads.
I also earned other badges that year. I earned my Water Safety Badge as I trained to be a Rookie Lifeguard. We did lots of badges as a Unit and in the summer we went to Beech Cottage and earned our Hostess Badge, our Nature Lover and Guiding Traditions Badge.
And so in my third and final year I was Sixer of the Gnomes. By then my younger sister, Michelle, was also a Brownie and sometimes we worked on badges together, which was fun.
In November we went to visit the local fire station and they explained all that they do and how to prevent fires and at the end of the night they presented us with our Fire Safety Badges.
Another night our Leaders brought us on a tour of the town and showed us the history of the town and that night we earned our Local Knowledge Badge.
I continued to work at home on badges as I only had a few left to do. Then one night two ladies from Intel came to our Unit and we worked on our Engineering Badge. It was a great experience and we learnt so much that night.
On my last night of Brownies we had a party and I was really happy as I had completed all the badges. At the end Ann got up and said that one girl had completed all the badges on the Journey Programme (it was me)! I was presented with a bag containing a Guide neckerchief, Guide sash, keyring, teddy and notebook but, best of all, the Guide Badge Book so I can start again!!!
I loved Brownies and hope that I will love Guides just as much! I'm looking forward to starting!