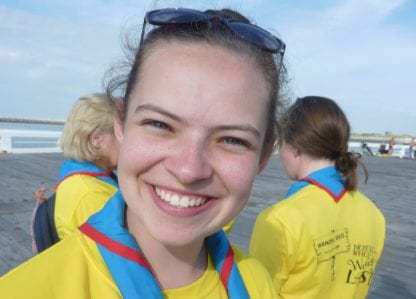 'I'm far more resilient than I thought!'
Anna Higgins, a Leader with Navan Guides, was one of 10 IGG Leaders to successfully achieve Explorer Belt! Here she writes a full account of her experience:
It was early on a Sunday morning and a gang of determined, slightly delirious Girl Guides made our way to Dublin airport from near and far. Where were we off to, you may ask? Well, we still didn't know!
The anticipation was killing us, but we managed to keep it together until Jemma and Katherine – our wonderful organisers – presented us with golden envelopes which had hidden inside the location of Destination X. After the big reveal, that's when the reality of what we were about to do set in. We were going to Belgium!
A quick flight and a train ride saw us in a hostel near the beach in Ostend. The next morning, we were set to begin our adventure into the historic Flanders Fields of the Flemish Westhoek region.
Explorer Belt is a 10 day international expedition where teams of two must walk 180km and complete various geographical, cultural and historical projects as well as find somewhere to pitch their tent each night! The aim of the award is to fully immerse oneself in the culture of the country and enjoy the challenge that is the Belt. The teams must rely on the kindness of strangers for campsites as well as assistance with projects. They must also manage their food budget by living on €3.25 each per day and carefully plan the best route to take.
Myself and my partner, Lucia McNally, began our Belt in a little town called Eernegem (don't ask me to pronounce it)! It was here the bus full of the other teams left us, not far from an Aldi. We sat down outside the shop where we eventually figured out where we were, the route we were going to take and what we were going to eat for the week.
Day 1 was very hot and after 11km we could not walk another step. Finding a campsite each night was daunting at first, but we quickly discovered the deep generosity of the Flemish people and found kindness around every corner.
The days consisted of repeatedly putting one foot in front of the other, eating up the kilometres and the journey was broken by meeting the most fascinating and friendly individuals. Whether it was filling our water bottles, giving us directions or, even letting us use their toilets, we were always greeted with warm smiles.
By Day 3 we had made it through the rain to the town of Veurne, which is known as mini-Bruges. It was here that we completed the first of our five compulsory projects. We had already made a start on our seven optional ones – one was to compose a song about our travels! After making our way to the tourist office and finding out about local traditions we met up with the staff – Jemma, Katherine and Cate. It was so lovely to see familiar faces and read all the good luck messages from home!
By Day 5 we were certainly feeling the heat and the weight of our bags. As the perspiration rolled down our backs, our shoulders ached and our feet screamed from the blisters, we ploughed on. Another one of our compulsory challenges was to climb the highest peak in Flanders – Kemmelberg. At 156m high and at a 15% incline, it was an onerous task with our heavy rucksacks and tired feet. But was it worth it? Absolutely!
Having conquered the so-called mountain, we came upon two of our own. Ruby Loughlin and Shauna Flynn had taken a break in the Belvedere café where we bumped into one another. We were offered beer and chocolate from the bar woman. She couldn't fathom why we declined the beer. "When you are in Belgium you must drink Belgian beer!" she exclaimed. While it was so lovely to catch up with Team A and share stories of our travels so far, the Belt beckoned us back to the road.
By the end of Day 5 we had surpassed the halfway mark of 90km. This alone was a major achievement. We could do this! To top it all off, that night we were truly spoiled as we were offered indoor accommodation! Not only did we have a comfortable bed for the night, we were also fed a delicious, traditional Belgian dinner. We devoured a fillet of steak, chips and the most divine mushroom sauce I've ever had. The family who took us under their wing had very little English, yet they had hearts of gold. Communication was never an issue on the Belt. Between Lucia's fluency in French and my hand gestures and facial expressions we were on the same wavelength as the locals.
By now it was time to head north: our pick-up point in the town of Kortemark beckoned. Day 6 slipped into Day 7, slipped into Day 8 as the kilometres rolled by and we edged closer and closer to our final destination.
We found ourselves completing our final compulsory project in the town of Zonnebeke where we learned all about the battle of Passchendaele in the Memorial Museum. Both Lucia and I were shocked by the powerful impact the First World War has on people's daily lives in this region of Belgium 101 years on. Many locals had told us about the bombs, spoons and guns that they collected from the ground when building their homes. One man pulled a fragment of a bomb from his vegetable patch and handed it to us as if it that were the norm. The harsh reality of war still lives on in the battle-scarred Flanders Fields.
That evening we struck gold again as we were invited to stay in a family's pool house! There was a long dining table where we spent the evening totting up our mileage, completing projects and writing our daily log. Once that was out of the way we dipped our tired feet into their heated outdoor pool! The aches in our toes slipped away as the warm water lapped against our shins. I won't forget that wonderful feeling for years to come.
We had planned to have an easy Day 9 with a direct route on a cycle trail to bring us to our collection point. As we stumbled closer and closer to the town of Kortemark, the top of the steeple began to rise in the distance. We could see our final destination! The sense of achievement that evening made finishing up the projects and logs all the more enjoyable. We had walked 181km and we were on the home stretch.
Day 10 – our final day began with yet another chorus of cock-a-doodle-doos. We collapsed the tent poles and packed our bags for the last time before setting off on our final five kilometres. We made it to the church in Kortemark after 9am where we decided to explore the town. We had a really enjoyable morning spending the last of our budget and finalising our logs, projects and distance covered. We walked a total of 186.3km in 10 days, completed all 12 of our projects and managed to have amazing experiences along the way.
At 12:30 a big white bus swung around the round-a-bout with women in yellow tops waving frantically through the windows. The bus pulled in and we ran onto the cool, air-conditioned, music-playing, snack-filled bus. Sharing stories from the week with the other teams on the way back to the hostel was really special.
We had all undertaken this challenge and entered into the spirit of the award completely and whole-heartedly. After more stories and listening to one another, it was evident that each and every one of us benefited in a personal way from this once in a lifetime experience. We all gained new skills and pushed ourselves in the best way possible.
Personally, I realised that I'm far more resilient than I thought I could be. By signing up I wanted to be an inspiration for my own Guides and Senior Branch. I proved that if I can do it, anyone can!
Last year I completed the Chief Commissioner's Award and that was amazing preparation for the Explorer Belt. The mystery location of Chief's and the Belt and walking into the unknown is character-building, testing and exceptionally fulfilling. West Flanders will forever hold a special place in my heart. I achieved what I thought was impossible and I have 10 days of memories that will last a lifetime.
Where will you end up? Where will your travels take you? I would encourage everybody to sign up for Chief's and get that experience 'under your belt' first. You have four years until the next Explorer Belt… starting now!