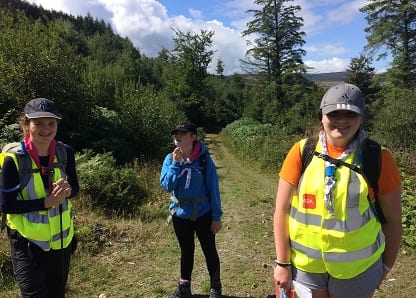 Hiking the South Leinster Way!
Well done to the South East Guides, Senior Branchers and Leaders who hiked part of the South Leinster Way! Here South East Region Assistant Commissioner, Cathy Connelly, writes about their experience:
The entire South Leinster way, which runs from Kildavin in Carlow through Co Kilkenny and ends in Carrick-on-Suir in Co Tipperary, is 102km. We hiked half of that distance – from Kildavin to Inistioge.
There were six hikers and we had support from Leaders on our campsites. The hike was open to anyone in the Region who wanted to go. The group size may sound small to those of you in larger Regions – and some Regions probably run Senior Branch hikes – but we South East folk are a small close-knit Region and include everyone in events such as this.
The first day the group hiked from Kildavin to Borris – a total of 22km. They say that to be a Guide Leader, you need to have a shed, a car boot and a dining-room table to be able to give for storage of Guide equipment. In the case of this hike, you also need to have a husband to volunteer to Guiding. I was unexpectedly unavailable for the first half day of the hike and Una's husband, Donal, generously offered to step in to lead that leg of the hike in my absence. When I met the girls, they were bounding down the slopes of Mount Leinster with what I thought was first day enthusiasm. However, their enthusiasm never faltered right to the end of day three and the last kilometre.
On the second day of the hike, we walked 12km from Borris to Graiguenamanagh along the Barrow tow-path. Along the way we examined the locks, which allow barges and other boats up and down the Barrow. The girls were delighted to see one of the locks in operation, which was much better than any explanation that I could give on how the locks work.
By the third day, I would have thought that enthusiasm for hiking would have been waning a bit, especially since we were heading uphill onto Brandon Hill. If anything, they were more enthusiastic than ever.
This last leg of the hike, from Graiguenamanagh to Inistioge, is 16km long and goes around the side of Brandon Hill and through forestry before descending to the picturesque village of Inistioge on the River Nore. Even though there was plenty of uphill hiking on this day, and it was a warm day, it was no bother to these ladies, who looked as if they hiked those hills every day. From Brandon Hill we could see over to Mount Leinster and see how far we had hiked.
We were staying in Woodstock Guide and Scout Campsite in Inistioge, which, as anyone who has ever visited Inistioge knows, is at the top of a pretty steep hill. The last kilometre of the hike through Woodstock woods and gardens was probably the toughest, but we were absolutely elated to arrive in the campsite where Marie was waiting for us with a warm welcome and a very welcome dinner. Marie and Una had even put the tents up for us so we were really spoiled!
As a Leader, I am in absolute awe of these girls who hiked an incredible distance and did so cheerfully and without a single word of complaint, even though their feet had to have been as tired as mine were. They laughed and chatted the whole way and I loved hearing them discuss amongst themselves the skills that Guiding has given them compared to girls who are not involved in Guiding.
This group of girls aged between 13 and 18 not only hiked 50km but did so with ease. It was a pleasure to accompany the girls for three days and my role was really easy in that all I did was accompany them: they led the way.
A Leader's job is to make themselves redundant by giving girls the skills to surpass them and I think these girls will make excellent Leaders in the near future.