Video & audio
March 15, 2021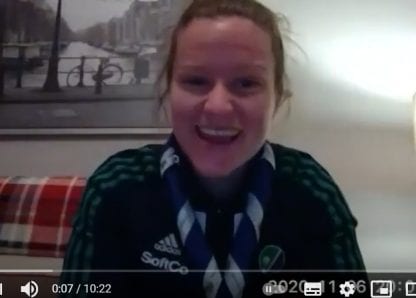 Centenary Guides in conversation with Shirley McCay
Centenary Guides from Dundrum, Dublin, nominated hockey trail-blazer Shirley McCay to be the Irish Girl Guides Ambassador 2020-2021.
The girls are massive hockey fans and have even travelled to Northern Ireland to watch Shirley and her Ireland Women's Hockey team-mates in action.
In this video they meet Shirley by Zoom and ask her some of their burning questions, including:
– How many hockey sticks do you have?
– How often do you train?
– Do you ever panic when the ball is coming towards you?
– Do you have to eat a special diet?
– What was it like getting the Silver Medal in the World Cup?
Shirley and the Guides also share Guiding memories with each other. Shirley has fond memories of being a Brownie and Guide when she was growing up near Omagh, Co Tyrone.