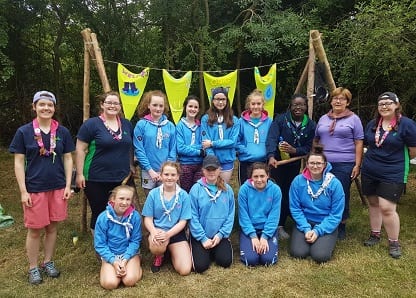 Outdoor camp was 'amazing'!
Drogheda Area camp was a huge success! Members of Tullyallen Guides, Drogheda's Boyne Valley, Cúchulainn Guides and Millmount Guides as well as Senior Branchers from Drogheda, Monasterboice and Dundalk all took part.
Here Róisín (12) of Millmount Guides writes about her experience:
This summer I went camping outdoors for the first time! I had an amazing time. Between cooking, campfires and activities I was so tired after the weekend!
On Friday, when we arrived, we pitched tents. We made a table from logs and ropes! It took a while but it was successful. Later that day we made camp flags. I was part of the Waterproofs Patrol.
On Saturday we had French toast for breakfast. After our delicious breakfast we all made tie-dye T-shirts. They were surprisingly easy to make. We twisted the T-shirts into a swirl, put elastic bands around them and dipped them into buckets of dye. We let them dry in the elastic bands for a few hours, took off the elastic bands and put them on the line to dry.
After that, we did a slip and slide using two huge tarps and fairy liquid! I was hesitant to do it at first but after my friend, Aoife, convinced me to do it I had a brilliant time! All of our Leaders had a go and they had a great time as well.
On Friday and Saturday night we had campfires. We sang loud songs, quiet songs and anything in-between songs! Unfortunately our camp was during a drought so we couldn't actually have a real fire, so we improvised! Instead, we used fairy lights. It actually worked really, really well to make a campfire, and then, to make it even better, we had s'mores!
During this camp I made friends, I learned to tie new knots and I cooked. We learned how to be more independent and we made friendships that will last forever. I had an amazing time, we had great Leaders, great activities and great weather!
We learned a lot by going to this camp. I wish it could have been longer. I had a great time with the people who I shared a tent with and who I camped with. We have great opportunities in Guides and I would love to camp again.