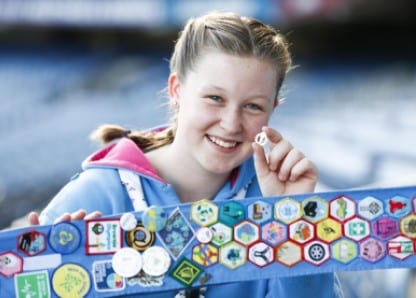 Bernadette earns all 60 Guide badges! Wow!
Congratulations to Bernadette of Edenderry Guides who earned every single Guide interest badge! What an achievement!
Here she tells us how she did it:
On Saturday 12 October 2019 I was very proud and happy to be one of the 135 girls who received the highest award in Guiding – the Trail Blazer National Guide Award. My Guiding journey began four years ago when I moved from Brownies to Guides after spending three years in Brownies and three years in Ladybirds.
When I joined Guides and got my Guide Travel Folder I was so excited to see all the badges I could earn. I made a promise to myself to earn all the badges in my four years as a Guide. This was greatly helped by the support of my Guide Leaders and my parents.
I worked on as many of the badges I could by myself at the weekend and doing a badge every four to five weeks in my Unit helped me work through all of the 60 Guide interest badges.
YEAR 1: PATHFINDER
I became enrolled and began working on badges. Some of the badges I worked on  were:
Green Fingers (I helped with my vegetable patch)
Camper Way Bronze (as I went on my first outdoor camp)
Care of the Elderly (I helped my mam with Meals on Wheels for the year)
YEAR 2: VOYAGER
Having completed some more of the badges during the summer, I returned for action to complete more. At the end of my year as a Voyager I attended IGG's international camp IGGNITE2017. Some of the badges I completed that year were:
Car Care (my dad showed me how to maintain a car)
Lord Baden Powell (I learned the history of Scouts)
Childcare (I minded my siblings and cousin for one day)
YEAR 3: INNOVATOR
In my year as an Innovator I became a Patrol Leader and my sister Lauren joined Guides. Some of the badges I completed were:
Lady Baden Powell (I learned the history of Guiding)
Engineer (I completed this at a camp in Carne, Co Wexford)
Sportswoman (I completed this as I was playing for Offaly under 12)
YEAR 4: TRAIL BLAZER
In my final year as a Guide I became a Patrol Leader again and I completed my Trail Blazer National Guide Award. Some of the badges I completed were:
Aviation (I learned the history of women in aviation)
Team Player (I learned what makes a team work and about teams in the world)
Farming (I learned about the machinery used when farming and about farming animals)
Europe (I completed this during the summer so that I would have every badge in the Guide programme)
Over the years my three favourite badges that I worked on were:
Sportswoman
Team Player
Active Body
SPORTSWOMAN:
For this badge I wrote about the training and matches I took part in while playing Gaelic Football for Edenderry and Offaly. I also wrote about the clothing and equipment needed for Gaelic football eg. football boots. Finally, I wrote down some of the rules of Gaelic Football.
 TEAM PLAYER:
For this badge I wrote down about what makes a team and examples of good teams. I also made a poster on some of the qualities of a good team and some of the examples of the teams.
ACTIVE BODY:
When doing this badge, we did a night outside in the school yard where we attend Guides and we played some games and activities in the yard like basketball, captain ball, hot potato and chasing.
Now that I have joined Senior Branch I can begin working on Ladybird, Brownie and Guide badges and work towards my 'I Am A Badge Diva' badge!!