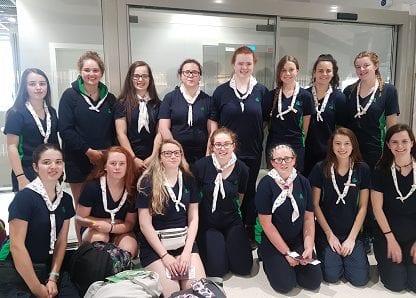 Adventures in Georgia!
Twenty members of IGG travelled to Georgia to take part in the Georgian Girl Scouts' Dia Camp. Thanks to the Senior Branchers who put together this diary of the trip for us:
Thursday 2 August – Kate
On 2 August 2018 our journey began. All 20 of us met in Dublin Airport at 8am. We embarked on our journey to Munich Airport and when we arrived there we got a train to Munich. We went to a German museum in the city centre called 'Deutsches Museum'. It was great. We got a meal in Pizza Hut and that was delicious. We returned to Munich Airport and prepared for our next flight to Tbilisi Airport. From there we would be getting collected by our host families.
Friday 3 August
Today we collapsed into bed at 6am and slept for four hours. Our host families gave us breakfast and we watched a movie. At 2pm went to Old Tbilisi where we met some of our host friends and our Leader. It was beautiful. We saw a famous artist and we went for lunch, we had amazing food. Hajapoarg was my favourite. We then went to meet our group and took the cable cars to the fort. We had amazing views. We walked the beautiful streets of Tbilisi and collapsed into bed later that night.
Saturday 4 August
On Saturday we had a tiring day. Our day started with the Museum of Georgian Houses. In one place we saw the different types of houses from all over Georgia and also wine cellars. After this we went to a cathedral. Then we went to the Museum of Georgian History and learned all about artefacts and the stories behind them. It was so interesting.
Sunday 5 August – Amy
The day started early with us all meeting at 9am to get on a bus to go to camp. This was our first time seeing all the Georgian Girl Guides that we would be camping with. Once on the bus we had a three-hour journey to our campsite in Atskara. The camp itself was up in the mountains and was very spacious. There were hammocks and sports/games equipment scattered around the camp ensuring we would never be bored. We were soon given our rooms and then we had a chance to meet the other members of our patrol as well as the other campers. We were all given our camp neckerchiefs and t-shirts too. At the end of the day we had an opening ceremony to welcome us all to the camp and to officially open Dio 2018.
Monday 6 August
Today my troop went rafting. We went over many rapids and it was so much fun. The view was amazing along the whole river. Thankfully no-one fell out but towards the end we all jumped out of the raft and swam close to the boat. On Monday we had a talent show in the evening. It was lots of fun and everyone got involved. Myself and my friends performed to 'The Rattling Bog'. I had a lot of fun; it was an amazing day.
 Tuesday 7 August
Today I stayed on camp and we played games based on the SDGs. In the evening the three patrols were given time periods and we had to make up a skit about Scouting in those times. My patrol was given the Stone Age so we dressed up as cavemen and discovered fire. We all enjoyed the night and it really put our imaginations to use.
Wednesday 8 August
Today I went to the caves in Vardzia. These caves are 8,000 years old and amazing to see. After a three-hour bus ride with the windows wide open we arrived. Already from the ground, a kilometre below, the caves were breath-taking. We walked up and went on a guided tour. It was so unreal that these caves had been there for so long and I'd had no idea. We went into the chapel and other room through steep, secret tunnels. After the caves and a quick stop at the supermarket, we were back at camp for tonight's campfire. We gathered in the gazebo because of the thunder and lightning. We danced, sang and had fun through the night. I learnt new songs and taught others the ones I knew. It was definitely one of my favourite days in Georgia, if not ever.
Thursday 9 August
Today was our last full day at camp. We spent most of the day practising for International Night and closing ceremony. There were many great performances from traditional Georgian dance to Irish dancing and a spectacular performance from the Lebanese girls who arrived at camp for just one night. We finished off the night by honouring our flags and singing each country's national anthem.
Friday 10 August
Today we left the camp. It was very sad to leave. We took a three-hour bus journey into Tbilisi where we dropped all our bags into Sunny House. After a big welcome to Sunny House, we went to a water park called Gino Paradise with a few of the Georgian girls from camp. It was great fun but emotional to say farewell to them. We had a sing-song with two of the Georgian leaders before we got off the bus; it was the icing on the cake to an amazing 10 days.
Saturday 11 August – Aoife
We were woken at 2am to head to the airport. We said our final goodbye to Kety and made our way through security and onto our flight to Munich. We were all exhausted and slept nearly the whole flight. We landed at about 9am in Munich, where we left the Irish staff team and went into the bright sunshine. Most of us had missed breakfast on the flight so we got food in the airport. We had two hours before we had to go back through security so we wandered around the shops, relaxed in the sun or had another nap. Some of us were even brave enough to get on a mountain bike and do a few laps of the track that had been set up!
We all made our way back through security and re-joined the staff and headed to our gate, where we learned that the flight had been overbooked! Three volunteers were required to stay overnight and be booked on a flight the next morning. Luckily, the issue was resolved and soon we were on the final leg of our trip. We landed in Dublin, collected our bags and were reunited with our parents!
The goodbyes were emotional but we were all excited to tell our stories and look ahead to our next adventures!