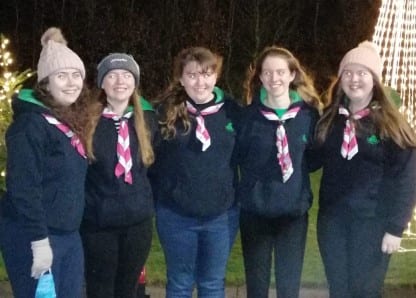 The resilience IGG members gain from Guiding has helped them cope with Covid challenges
The past year has been tough for everyone, but members of Irish Girl Guides (IGG) say the resilience they have developed through their involvement in Guiding has helped them cope with the unique challenges everyone has faced as a result of the Covid-19 pandemic.
Speaking ahead of International Day of Happiness (20 March), IGG Chief Executive Officer Claire Barkey says: "As we face a global crisis together, it is essential we find positive ways to look after ourselves and each other. This year's International Day of Happiness theme is 'Keep calm, stay wise, be kind', which is closely aligned to the IGG ethos.
"IGG is all about enabling and encouraging girls and young women to reach their full potential and to contribute positively to their local communities and, as they get older, to the wider world too. At this time, we encourage our members to BE KIND to each other but also to ourselves, to support others' well-being and our own.
"It is so important at this time that we stay connected and reach out to help others. Our volunteer leaders have done a fantastic job in continuing to engage with our youth members in many different and creative ways. Some are holding online meetings and some are dropping activity packs to girls' homes.
"Many of our volunteers and youth members have shared with us how the resilience and coping skills they have gained through Guiding have helped them cope with the challenges they have faced as a result of the Covid pandemic. Covid has helped us identify the elements of 'community' that provide strength and support to each of us, which we may have taken for granted."
Theresa McCarthy, a volunteer Leader in Bandon, Co Cork, says, "It has been really difficult living through the Covid restrictions but I've realised how the coping and resilience skills I have gained through Guiding have helped to get me through this time of crisis. As a volunteer Leader with IGG, I know that if you try something one way and it doesn't work, then you try another way. And many times this past year I have needed to find that other way of doing things – when I couldn't travel, I was unable to meet people and wasn't even able to buy things – but I coped. If something didn't work the first time, I tried and tried again.
"Resilience will help us get through this time of Covid. We're not born with resilience; it is built up over time and I am delighted that IGG has helped me build up the resilience and coping skills that will get me through this time of crisis."